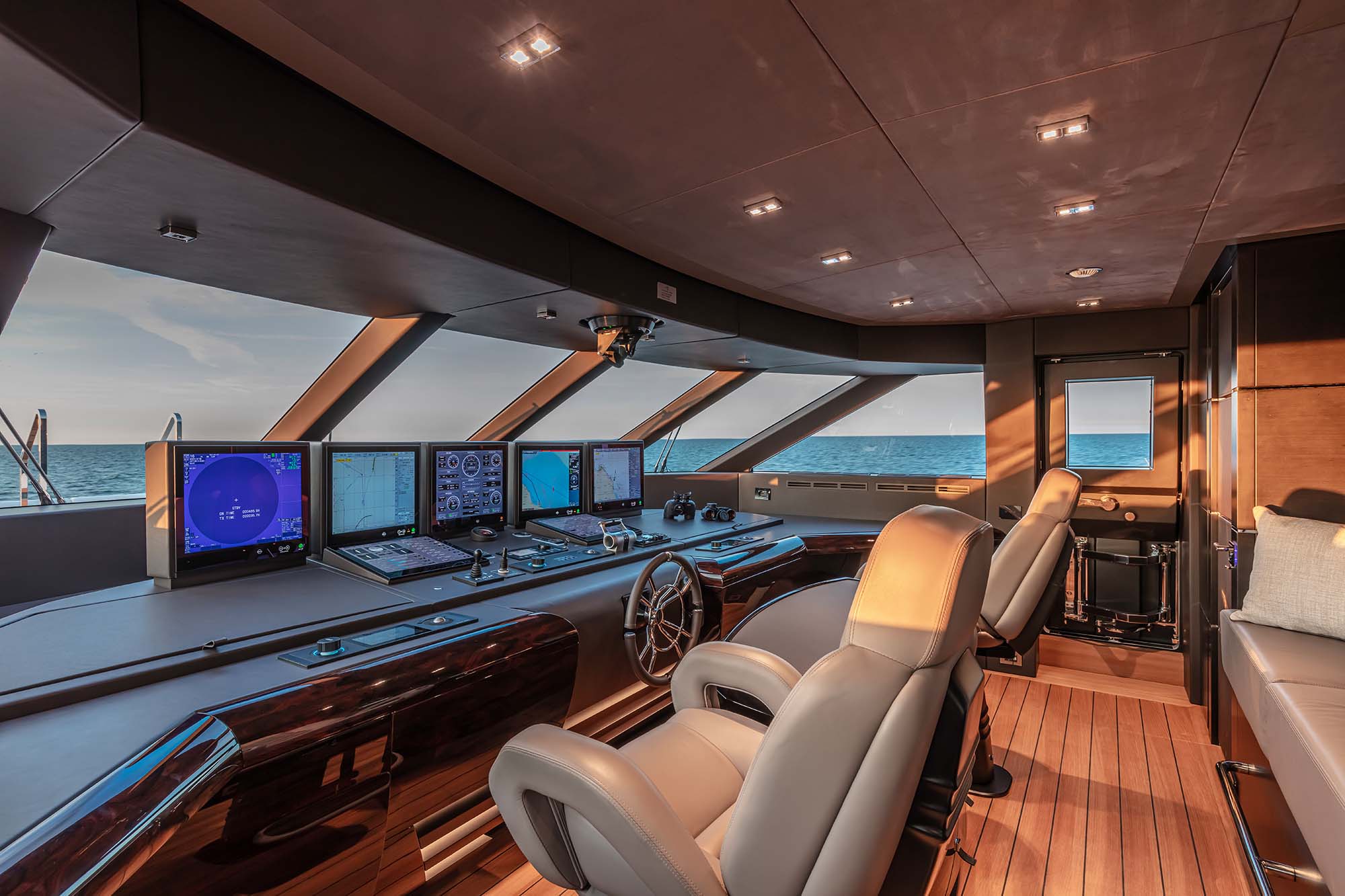 29 Oct

TEAM Italia at MONACO YACHT SHOW 2021

TEAM Italia prepares to unveil new technology solutions and bridge concepts at the upcoming Monaco yacht show
Two new bridge solutions, Ghost and Dharma, to be unveiled at MYS 2021
TEAM Italia and ONYX Marine Automation, a company of the Italian group, will also be present in Monaco onboard many of the season's most eagerly awaited yachts
"The year, 2020, despite its complexities and criticalities, has given us the right amount of time to further boost our R&D activities," says Daniele Ceccanti, Technical Director of TEAM Italia, an international leader in the field of navigation electronics for Mega and Maxi Yachts.
"Over the last 18 months, we have been working on new bridge designs but, above all, on new technical solutions that combine even better with the latest technologies," continues Ceccanti.
The company's design division has been working intensively on two bridge solutions that will be unveiled during the next Monaco Yacht Show.
SAFETY FIRST
The Ghost bridge is a solution created for boats with smaller bridge spaces but that can still provide all the innovations implemented by the R&D department in the I-Bridge® project.
The Dharma Next model, on the other hand, has been designed for boats with larger wheelhouses and includes 3D applications to bring it in line with the latest technologies available on the market, further implementing ease-of-use thanks to the innovative HMIs (Human Machine Interfaces) that have been identified and applied.
In both solutions, navigation safety has always been one of the main priorities; the company can operate confidently in this field thanks to the experience gained on the previous 280 I-Bridges® produced and delivered in over 20 years of activity.
TECHNOLOGY CONCENTRATE ON BOARD THE MOST ANTICIPATED SUPERYACHTS AT THE MYS 2021
TEAM Italia will also be on board several yachts that will be presented for the first time at the Monaco Yacht Show 2021.  
On board the M/Y K2, the new Columbus Sport 50 mt., it will be possible to appreciate an integrated I-Bridge® with an automation system by Onyx Marine Automation, a company of the TEAM Italia Group.
The Navetta 33 and the Ferretti Group's Custom Line 120 project will also be equipped with I-Bridge® architecture and Onyx Marine monitoring, the result of the close and ongoing collaboration between the company and the shipyard. 
The recent I-Bridge® solution that TEAM Italia and Onyx Marine engineered and developed for the "Tecnomar For Lamborghini 63" project is a technology concentrate, in which very high levels of performance, required by the project and its exclusive client, have been implemented.
Finally, the TEAM Italia concepts will also be on board some of the Sanlorenzo shipyard's most eagerly awaited projects, a 44 Alloy and a 500 Exp. Standing out of the crowd is the bridge on the MY Panam whose manoeuvre operations, in addition to being managed from the Wheelhouse, are executed with the aid of two flaps, which are also integrated and provide the captain with all the useful information needed during mooring and manoeuvre phases.